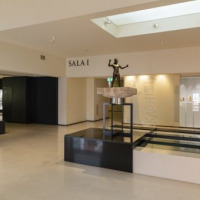 MUSEO DEGLI ORI DI TARANTO (MUSEUM OF GOLDEN JEWELS)
Just 50km from the Caribbean hotel by the sea, in Puglia you can see one of the most beautiful collections in Italy. The Ori of Taranto are the most precious testimony of the refined Tarantina goldsmith: they are kept at the National Archaeological Museum of Taranto. Among the most precious golds is the flowering tiara from the "tomb of the Ori of Canosa", where it was found in the 1920s. The jewels, kept in the hellenistic goldsmith art section of the National Archaeological Museum of Taranto, are an important testament to how the processing of precious metals, and in particular gold, was one of the most developed activities in the famous city of Magna Greece between the 4th and 1st centuries BC.
The main processing techniques were hammering, chiseling, watermarking and granulation. Among the pieces on display in the "Room of golds", we note the jewels that belonged to some funeral kits, among which are noted: "Diadema in gold and hard stones" with floral pattern decoration; "Ship earring" with filigree processing; "Lion-headed earrings"; "Nutcracker"; "Silver tea" in the shape of a shell.
Opening hours phone: 099 453 2112
VIA CAVOUR 10, Taranto
Distance: km: 40.78